Mountain cycling is all about steering a mountain cycle over rocky tracks and around boulder-strewn paths. It's no secret that mountain bikers love trails and more trails! To tackle the trails, the requirements are physical strength, stamina and a strong mountain cycle. Mountain bikes or ATBs (all-terrain bikes) feature a frame and fork that are rugged. Their frames are often built of aluminum so they are lightweight and stiff, making them efficient to ride.
Where to go?
The hot spots for mountain cycling are Srinagar to Gulmarg, Gulmarg to Pahalgam, Pahalgam to Srinagar, Srinagar to Sonamarg, Sonamarg to Wular / Manasbal lake and back to Srinagar .The Srinagar – Leh highway gives you a chance to conquer the mighty Himalayas through ten mountain passes.
What you need to know?
Mountain cycling calls for strength and stamina. Make sure that you get used to the local climatic conditions. We can offer experienced support teams, guides, energy drinks, food and accommodation in villages / local homes / hotels throughout.
What you must carry?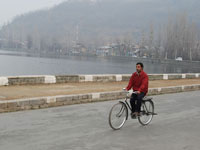 A sturdy, geared mountain cycle is what you need to buy. Accessories include biking shoes, helmet, insulated gloves/waterproof gloves, cycling bags to carry belongings, lightweight, washable and insulated bottles for keeping beverages cool, collapsible water bags, first-aid kit, sunglasses, insect repellants and sunscreen lotion. Carry a repair kit with tubes, non-toxic and water-soluble degreaser, grease tubes for greasing bearings and an aero spray for bike cleaning. A bike pump and tool kit, along with spare tyres, accessories like speedometer, bike rack, batteries, instruction manuals, maps and flashlights are other musts.
On request various cycling tours can be arranged easily.